26 November 2021
SNOW SHOES WALKS 2021-2022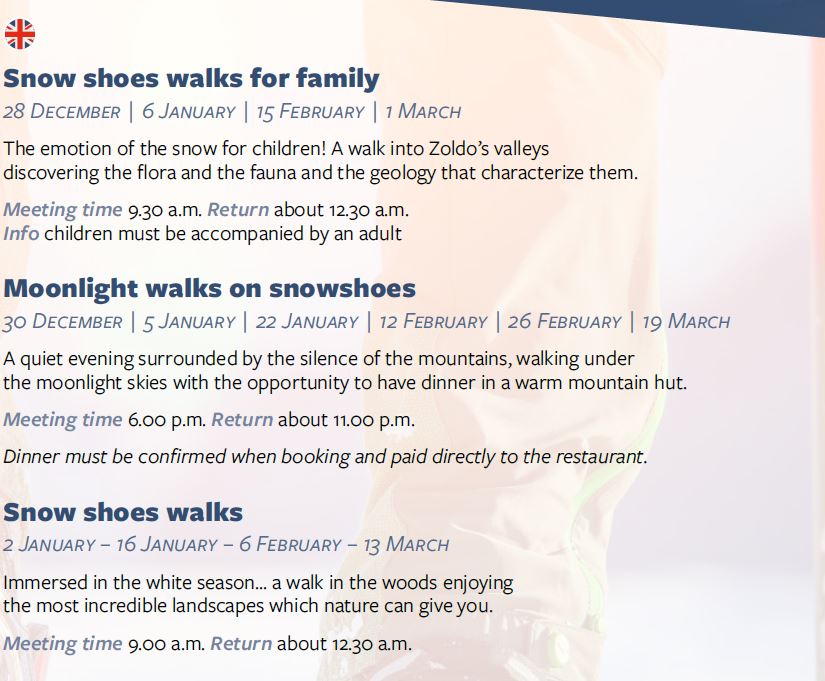 Equipment Winter trekking boots and gloves-snow shoes and pales
shall be provided by the organization.
Register Contact the tourist office of Forno or Pecol or the accommodation
facilities of Val di Zoldo Turismo, within 17 hours of the previous day .
Booking Maximum 10 people – children must be least 12 years old.
Cost Euro 25,00 per person (Euro 20,00 for our guests).
Children up to 12 years € 15,00 (€10,00 for our guests).
Family discount Children plus parent € 30,00 (€ 25,00 for our guests).
Accompaniment By the mountain guides who will evaluate, in case of bad weather or other
unforeseen circumstances, to modify and / or shorten the route according to the weather
conditions or the participating group. During the activities, which start where the means of
transport are left and until return to them, all participants have RCT insurance coverage,
as required by law.